Home Design and Celebration Decoration

Every now and again everyday life gives way to a celebration.  It might be a birthday, Thanksgiving, or a religious holiday. 🎉🎄 🥳 🎃 ✨

This got me thinking about all the different ways that your home design can support you to get ready for the occasions you want to celebrate in your home, particularly with respect to decorations.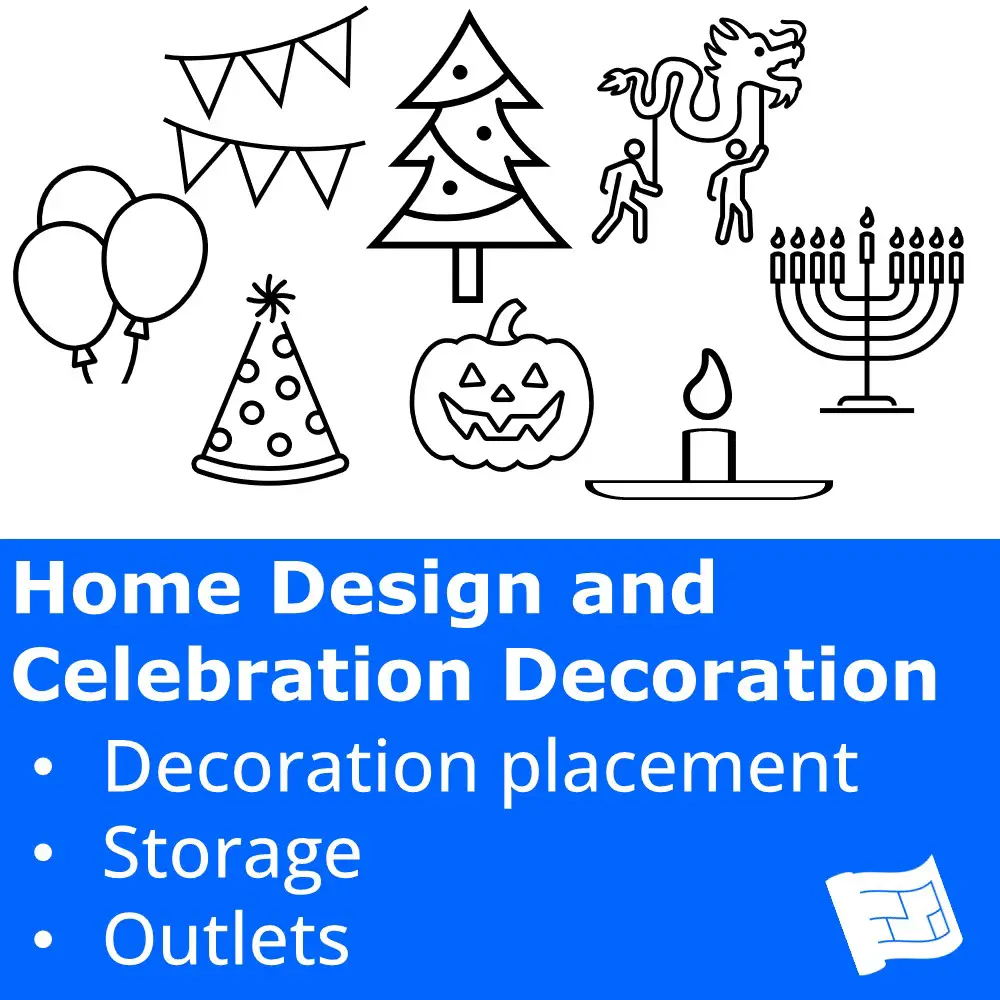 Let's take a look at how the decisions you make when you're designing your home can contribute to making it easier to decorate for celebrations.
If you're designing your own home, or approving plans that an architect or designer has done for you, here are some important questions to ask.
Where will the Christmas tree go?

How will you hang your decorations?
Where do you need outlets?
Is there enough space to store your decorations?
Where will your Christmas tree go?

I'm starting with your Christmas tree because it's the item that probably needs the most planning for.

When you're planning your living space, consider where you'll place your Christmas tree (or Christmas trees).  In a corner or in front of a window are amongst the most popular places.
I'd go so far as to mark on your floor plan where you want your Christmas tree to go.

Placing your Christmas tree in a window means your tree contributes to the decoration of the exterior of your home.
How will you hang your decorations?

Lots of your decorations will need to be hung up so why not figure this into your home design.  This avoids using tape or other sticky things that leave marks on your walls.  Here are a few design suggestions:
Plan how you'll attach your wreath to your front door.
Designing a shadow gap into your coving creates a great spot to put in some hooks to hang decorations.
Lighting fixtures and curtain hardware or pelmets can also be useful anchor points for decorations.
If you're fond of a garland over a fireplace is your fireplace design suitable for this?
If you want to display a menorah, is there a suitable window sill or shelf?
If you like to have a stair garland, will the design of your staircase allow you to attach a garland easily?

Where do you need outlets?

Christmas tree lights
Don't forget an outlet for your Christmas tree lights.  Sometimes an outlet in the floor works better than an outlet in the wall depending on where you've planned to put your tree.
Consider having the outlet wired to a switch in the wall to make turning the lights on and off easier.

Outdoor lights
Have a think about what lights you want outside your home and the outlets you'll need. 
For lights on the facade of your home, perhaps around your windows or over the roof line, a discreet outlet at a higher level (eg under the eaves) might be a better place than at ground level.  Think about how you'll access higher level outlets.

As well as the outlets, think about how you want to operate switching your lights on and off.  Planning a separate circuit with a dedicated switch and perhaps a timer.
Other indoor lights
If you like hanging fairly lights around your room, or over your fireplace, or going up your stairs, make sure you've got outlets where you need them.

Is there enough space to store your decorations?

Decorations take up quite a bit of space so plan an adequate storage space when you're figuring out your floor plan.  As well as the space itself, ease of access is also important.  Try to avoid the scenario of having to get lots of boxes out to find the ones that you need for any particular occasion.  Here are some questions to ask yourself when planning decoration storage.
What occasions do you decorate for?  There are the obvious holidays but how about birthdays?  A few balloons, flags and fairy lights can be a great way to make your home feel special for a birthday.
When do you need the decorations?  Some occasions are once a year and yet you may well be celebrating several birthdays or holding several parties for other occasions.  You might want your fairy lights or twinkle lights more often than once a year.
Where is the storage best placed in your home?  Annual decorations can be stored in more remote locations in your home such as your attic or garage.  For decorations that you use frequently, think about having them much more close at hand to your living space.
So there you have it.  It's all these details that will make setting up for celebrations hassle free.