Living Room Design

Good living room designs are more than just pretty pictures of sofas and chairs that no-one's sitting in. I put these pages together so that you can design your living room layout.  Then you can be sure that all that effort you put into your interior decorating won't be wasted on a badly functioning living room design.

What's a living room anyway? A lounge room, sitting room, great room, gathering room or family room? The living room is a place where you relax as a family or household and entertain friends. It's probably more accurate to call it a living 'space' because so many homes are open plan these days. Maybe there's more than one 'living room' in your home. Is your home anything like the picture below???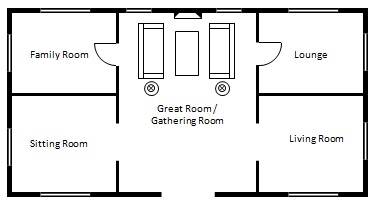 More Living Room Design for you...

More room design for you...