Floor Plan Symbols

You'll need to get familiar with floor plan symbols if you're looking at floor plans. A floor plan is a picture of a level of a home sliced horizontally about 4ft from the ground and looking down from above.

If you would like a set of free floor plan symbols (all of the symbols on this page drawn to scale and a set of blueprint symbols), go ahead and sign up below.

Every symbol is drawn to the same scale as the rest of the floor plan. The meaning of the symbols is a combination of...
Appearance (a sofa symbol looks like a sofa and a bath symbol looks like a bath)
Conventions (eg dotted lines used for solid things above the cut line of a floor plan)
Labeling (eg W for washer and D for dryer)
Putting all these together and with a bit of intuition it's possible to work out most symbols but some are more difficult to figure out. I've explained lots of them on this page all arranged into sensible categories.

Scale and Compass


Scale and Compass
The scale will tell you if you're floor plan is in feet and inches or the metric system. Here the feet and inches scale is on top and the metric underneath. The North arrow tells you about the orientation of the property.
Read more on scale for floor plans.

---
Walls

Wall floor plan symbols
The top line represents an exterior wall and the bottom line an interior wall. Sometimes there may not be as much of a difference between exterior and interior walls.
Walls can also be represented by a black outline rather than a solid line.

---
Architectural Details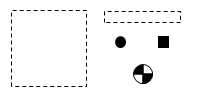 Architectural details

The dotted square top left indicates something above the line where the floor plan is cut (typically 4ft). This might be a dropped ceiling. The dotted line might be a ceiling beam.
The solid circle and square represent columns.
The black and white circle is used to indicate floor heights so you can tell if there's a step up or down.
The image at the bottom represents a fireplace.

---
Doors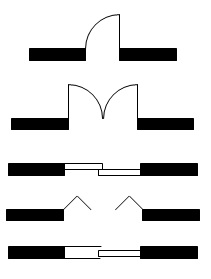 Door floor plan symbols
From the top...
Single door
Double door
Sliding door
Bi-fold door
Pocket door

---
Windows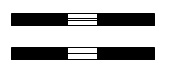 Window types
At the top is a double casement window and underneath a single casement window

---
Stairs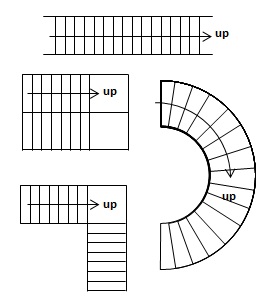 Arrangements for stairs
Here's some stair layouts. There's straight up, up and back on yourself and round a corner.
Then there's sweeping staircase style.

---
Kitchen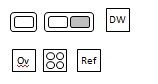 Kitchen fittings and appliances
Top row from left ... sink, sink with draining board, dish washer.
Bottom row from left.. oven, cook top, refrigerator.


Kitchen work top with cabinet above
The solid line here represents the work top in the kitchen with the dotted line representing the cabinet above.

---
Laundry

Laundry appliances
No prizes - washer and dryer

---
Utilities

Utilities floor plan symbols
HWT - Hot water tank
HW - Hot water heater

---
Bathroom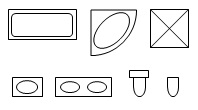 Bathroom fixtures and fittings
Top row from left... bath, corner bath, shower.
Bottom row from left... sink, double sink, toilet, bidet.
Showers can often be different sizes than shown here but will always appear with a crossed lines through the center.

---
Living Room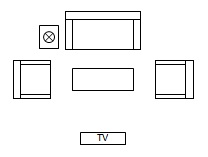 Living Room Floor Plan
Here's a little arrangement for you. The sofas and chairs are kind of obvious with the coffee table in the middle. The side table has a lamp on it and the TV is labelled.

---
Dining Room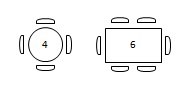 Dining Room Tables
Dining tables - a round one for four and a rectangular one for six.
These tables show chairs in the pushed in position so remember to look for clearance around the table so that people have room to come and go from the table.

---
Bedroom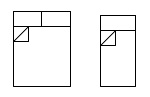 Beds
Here you have a queen size bed and a single bed nicely turned down!
Below is a closet with built sides. The dotted line represents the rail.


---
More house plan symbols for you...