Kitchen Design Layout

Welcome to the kitchen design layout series.  Part of the design a room series on room layouts here on House Plans Helper.

I've got so many ideas and suggestions to share about kitchen design layout.  The idea (as always on HousePlansHelper) is to give you ideas, inspiration and knowledge about kitchen layout and kitchen function – so that you can make sure that those great looking cabinets you've got picked out will be both beautiful to look at and a pleasure to use.

The How to Design a Kitchen page guides you through the whole process.  If you want to jump straight to a detailed section, here's what I've got for you.

What makes a good kitchen?

The aim of a great kitchen design is to maximize counter space and storage and be a pleasure to use.
Sufficient storage in the right places.
Sufficient counter space in the right places.
An efficient working area.
Appropriate amount of appliances for the size.  If you have a small kitchen then don't sacrifice counter space and storage for a steam oven and warmer drawer.
Access to natural light and well lit.
The level of 'kitchen working area privacy' is right for you.  Some people want a kitchen with the table in the middle of the action.  Others prefer the kitchen work area to be out of view from the eating area and to be able to get a bit of peace in the kitchen.
The kitchen is fairly near an entrance to allow groceries to be brought into the kitchen easily.


Kitchen design mistakes

Here's a few kitchen calamities to avoid...
An island that interrupts the work triangle.  It's a long way to walk from the refrigerator to the sink.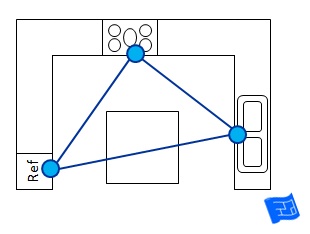 A tall unit that interrupts counter space flow.  Counter space is golden in kitchens so don't interrupt all that flowing flat counter top with a tall unit in the middle.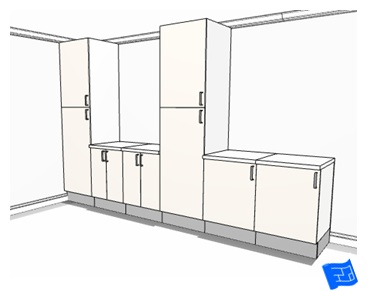 Large kitchens with enormous work triangles.  This is the same arrangement as above except without the island.  Now that the obstruction is gone it still has the problem of an enormous work triangle – you'd walk 10 miles each meal with this kitchen design.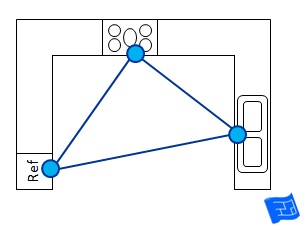 Circulation cutting through the work triangle. If you can make your kitchen the road to nowhere.  Accidents happen when cooking and foot traffic mix.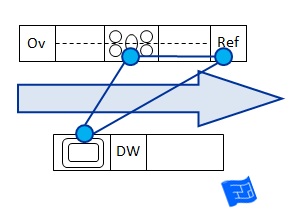 Kitchen Design Observations

I like cruising Houzz as much as anyone and here's a collection of kitchen layouts with a few comments, all to illustrate some of the ideas made on this page.

More kitchen design for you...

More room design for you...