How to read house plans

This is the jump off page for a series on how to read house plans.  Learn how to read....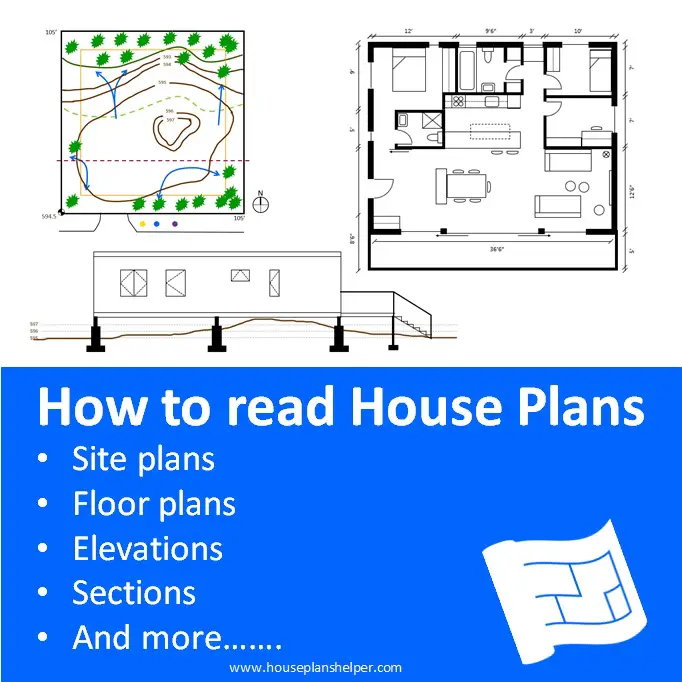 To illustrate how to read floor plans, we'll be looking at a made up case study house so you can follow through the plans, all for one house.

Why go to the trouble of learning how to read house plans?

Learning how to read house plans is an important skill if you're doing a home project. 

I say that because house plans are the main way the design of your home is documented and communicated to everyone involved in the project. This means everyone between your design  team, your contractor and of course you as the homeowner are going to be working your house plans.

Don't get left behind

It's well worth getting up to speed with reading house plans so that you're not at risk of being left behind during your home project.  Being able to read House plans will mean that you'll be able to fully engage in the design process and you will also be able to use the plans to check on things during the build phase.

Any sort of diagram that describes a home or part of a home is a house plan, but the most common drawings in a house plan are the site plan, floor plan, elevations, sections, mechanical and electrical (includes lighting) and detailed plans of design intensive spaces inside your home like the kitchen and bathroom.
Other drawings include construction details which show exactly how parts of the home should be built such as walls, roof plans, or joints between the wall and roof are to be built - and structural plans (if you have steel or an unusual structure that needs explanation).

House plans are used in several ways during your project
So how are house plans used during a home project?

To explore design options at the start of the design phase, often hand drawn to start with.
They form part of the document pack you'll submit to your planning department to get approval for what you want to build in terms of planning considerations like zoning and set backs, any historic building considerations and to check that building code requirements are met.
House plans form part of the document pack that builders use to price and build your home.
Once you've learned the house plan 'language' you'll be able to use that language to get involved in the design of your home.  We'll learn to read them first, then you'll be in a position to draw them if that's something you're interested in doing for your home design.

How to read house plans - getting practice.

Look at sites that show floor plans

Look online to get practice – ArchDaily is a great site which has designs from all over the world and they usually have a floor plan and some elevations and sections.  There are some really interesting designs which will give you some really good practice for reading these drawings.

Also try house plans websites.

Watch some reality TV
I really enjoy the show Grand Designs.  Each episode tells the story of an interesting project.
In some stage in each episode they show a floor plan or a model of the home.  When you're watching and you see the floor plan, make a note of the time in the show.  Once you see the finished home at the end of the episode, go back and look at the floor plan again and try and relate the finished home back to the floor plan.

You might be able to find Grand Designs on Netflix and you can find it on the Channel 4 player as well.
Warning - it's addictive!!!!
There are other shows too of course - Grand Designs is my favorite though.

More on How to Read House Plans