Construction costs

Whether you're thinking about your home construction costs for building a new home, or home remodeling costs  for a remodeling project, the question of how much it will cost is never far from your mind.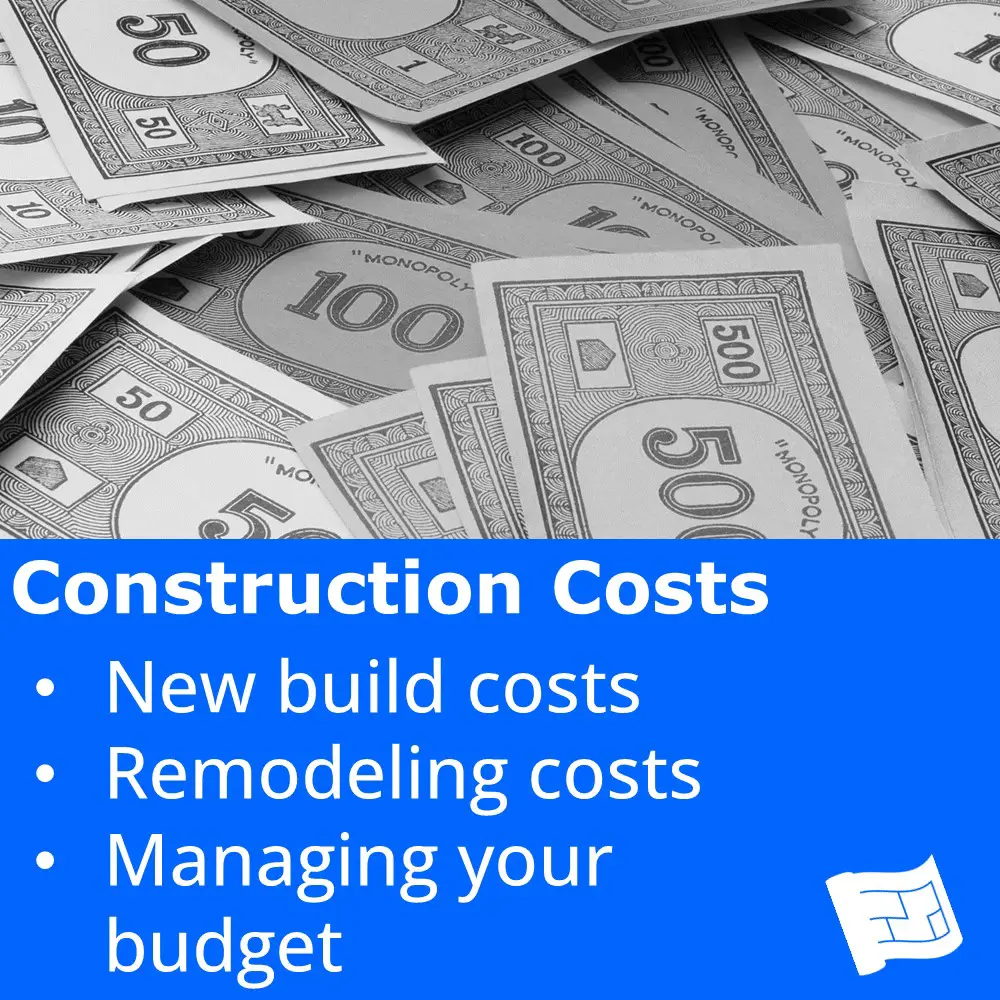 There are a number of concepts to get to grips with such as construction cost per square foot, or remodeling cost per square foot depending on what type of project you're planning.  You'll certainly be familiar with this costing technique, but there are some subtleties that you need to be aware of.
You might be trying to put together a construction cost estimate.

What Does Your Budget Need To Include?
Let's have a look at what goes into a budget (and it's a bit more than just the construction cost).
There are several elements to the cost of a building project...
Cost of land and any existing property including broker fees, legal fees, title search, recording fee, real property transfer tax.
Insurance - check carefully what insurances you need such as insurance for the duration of the project and for any time that you're not occupying your property before or after construction is completed.
Cost of living in another residence during construction if necessary.
Moving expenses.
Professional fees (design services, surveys, engineers, cost estimator and any further professional consultants required).
Permit fees.
Construction costs.
Decorating costs.
Furniture – not strictly part of the fabric of what you'll be building, but you'll probably want to set aside some money for new furniture.
Landscaping and planting - again not strictly part of the bricks and mortar of your home, but an essential part of the design.
Contingency.
At every stage in working with your budget it is essential that you understand which of these items are included or excluded at any stage or in any set of calculations.
Your Contingency
Your contingency is your protection against unforeseen costs. It's not allocated for spending on any other item of your budget. It's a risk management tool – planning for the worst if you like.
How much contingency will I need?
The amount you should have in reserve for your contingency depends on the complexity of your project. A new build with no demolition has far fewer unknowns than a remodel and addition to a heritage home.
Your starting contingency should be 15 – 20%.
Your team can help you identify what risks your project might be facing and therefor help you decide on the percentage amount your contingency should be.
Mitigate your risks
Do as much as you can before you set your budget to find any unknowns. Have a survey done, a soil test, ensure your design and budget are aligned – all this will help reduce risk.
As your project progresses you'll find that some of the risks that were identified haven't actually happened – happy days. You can start to reduce your contingency amount as the likelihood of unknowns decreases. Let's say you started your contingency at 20% and now that your home construction is moving nicely along and the home is watertight, you reduce the percentage to 10% for the remaining interior fit out of your home.
I wouldn't reduce the contingency to less than 5% until your project is completely finished.
Some homeowners choose to spend any contingency released at this stage on upgrading some finishes in the interior.
Construction cost on a budget

Working out your budget is a balancing act between how much you plan to spend and how much it will cost and many homeowners are looking for ways to make their budget stretch as far as possible. 
Are you looking for some tactics for home building on a budget?  You've probably heard of some of them, but are they all that they're cracked up to be?
When it comes to home remodeling on a budget, the trick to this can be assessing what really needs to be done in order to keep the scope of your project under control so that your costs don't spiral.

Working with your budget

Setting your budget is a question of working out how much you're going to spend.  Sounds simple – maybe a bit too simple.  When you think about it, there's a lot more to budgeting than just setting the amount that you're going to make available for your project.
Here's some things to keep in mind when you're thinking about your budget.

You'll need to set your goals and priorities.
You'll need to make sure that you're spending the right amount on your project.
You'll need to work out how your budget will be distributed across all the things you'll need to pay for.
You'll need to get informed on how to make sure you get good value on your project.
You'll need to learn how work with your budget as you progress through the phases of design.
You'll need think about how (and who) will be tracking your budget throughout your project.  
You'll need to know what can cause budget blowout and how to avoid it.
If you're doing a project with your partner, you'll need to work out how to be in harmony rather than arguing about your budget.
More construction costs...

You might like these pages.