Window Design

How does that saying go?  Your eyes are the windows to your soul?  With window design I think that your windows are the eyes to your home. So for me, your windows are a fundamental design element of your home.  And they're a unique design element in so much as they're seen from both the inside and outside.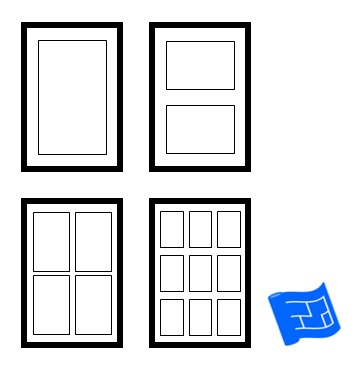 What I'm trying to say in a roundabout way is that your windows are really important and it's worth spending the time to consider the design of your windows carefully.

On this page we look at the seven things you need from your window design.  Then in the rest of the section we'll be looking into (sorry, couldn't help it) these topics.

Seven requirements for successful window design

1 - Light
Our windows design needs to let in plenty of daylight.  The quality of light afforded by our windows depends on several things:
2 - Efficient protection from the elements

Our window design needs to offer efficient protection from the elements while allowing us to take advantage of the sun or the breeze when possible.
We need protection from the rain, wind, external temperature and direct sunlight (if it is harsh to the eyes or will cause damage to fixtures and fittings).
At the same time our homes might need ventilation to keep cool or we might want to take advantage of the sun to help heat our homes.
Read more about window efficiency.

3 - Aesthetic appeal
Our window design needs to look good.  Windows form an important part of the aesthetic appeal of our homes when seen from both inside and out.
There are many elements that go into the design of windows such as:
The position within external and internal walls.
The style of your home.
The design of the window surround (reveal) both internal and external.

The materials used for the window frames.
The design of each part of the window.


4 - Views
Our windows need to take advantage of views.
The appreciation of a view is achieved by:
Careful thought about the window placement.
Taking into account how we will admire the view.  For example will we be sitting by the window, washing up, having a bath, lying in bed or walking by?
Of course a window we can see out of may also allow people to see into our home.  Think about what people can see from the street and what your immediate neighbors can see from their homes and outdoor spaces.  We can preserve our privacy by using:
5 - Home security
Our window design needs to be secure to prevent criminals gaining access.  This can be achieved through the use of:
Window grill design

Window locks

Alarm sensors placed on the window frames
I came across the site 'secured by design' in the UK which lists companies that supply windows which meet the 'police preferred' window design specification.

6 - Fire escape

Our windows need to serve as a means of fire escape from upper floors.  This can be achieved by:
Including removable frame posts in the window design.
Sourcing a fire escape ladder.
It's important that if you have window locks fitted, there are keys in each room so allow for a fast escape in case of fire.

If you are planning a very high tech home, there are windows that, when receiving a signal from a central computer that there is a fire will open automatically to vent the smoke outside.

7 - Child safety

Last, but certainly not least is ensuring that your windows are safe for any young children living in your home.  There are two risks to guard against:
Falling from a window - To guard against this, choose a window design that enables ventilation through a vent, or through a very slightly open window which cannot be opened any further.  Install window locks to prevent children opening windows on their own.
Finger trapping - Choosing windows which have a mechanism for preventing a window moving in the wind will help prevent finger trapping.
Glass breaking - Choose a type of window glass that is safer if it is broken.

More window design