How to make your lockdown life better

I think I'm right in saying that at time of writing, all English speaking countries are still in some form of lockdown.
We're using our homes in new ways that we haven't before.

So how can we unlock the full potential of our homes during lockdown so that we can enjoy our homes to the full and make life as good as it can be?

Here's a few ideas...

Supersize your virtual communications
I don't think I've ever been more grateful for Facetime, WhatsApp video, Google hangouts and Zoom than during this lockdown period.  They allow us to keep in touch much better than just with talking.

I've just heard that Facebook have launched a desktop version of Messenger chat.

And they facilitate online gym classes, dance classes, choir, orchestra - all sorts of things.

I got frustrated with everything being a bit small so now I make the experience better by connecting my phone or laptop to my TV.  This makes everything a bit bigger and a bit more immersive.
It works brilliantly for gym classes, or for checking in to work meetings where someone is giving a presentation.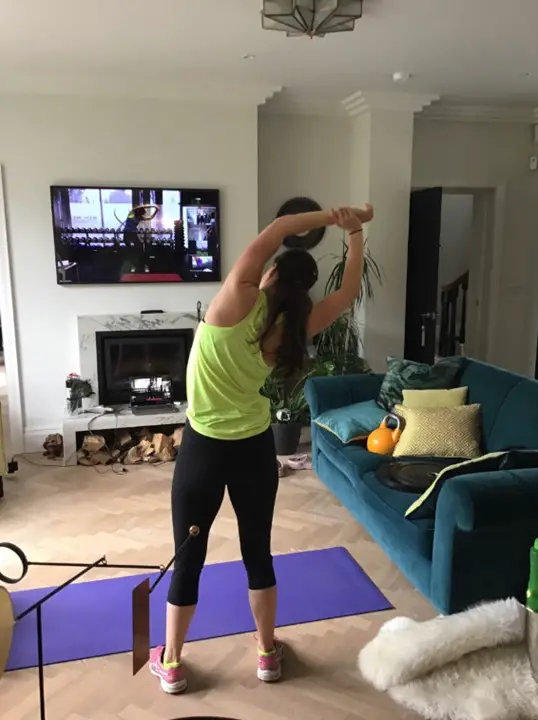 With my phone I use a Chromecast dongle and with my laptop I connect using an HDMI cable.  You can use Chromecast with your laptop as well but I find the HDMI connection more stable.

For face to face chats it doesn't work quite so well because if you leave your phone or laptop with the camera by the TV, then you appear small, but if you keep your phone or laptop near you and focus on the TV then your eyes will be on  your phone rather than in the direction of the camera which can be off putting.

Your phone might be able to do screen mirroring with your TV without anything extra so give that a go first.  In particular you can mirror you apple phone with apply TV and you can mirror your Samsung phone with your Samsung TV.

You can find some more detailed instructions on how to get everything going with this technology here.

Bring the outdoors in
We can't go far from our homes and maybe you've missed or are going to miss some vacations.  Here's a few ideas to bring the world outside to your home.

Bringing the outdoors in is particularly important if you have no outdoor space.

Travel the world with webcams
Do you have a favorite spot in the world?  Maybe it's in your own city or town, maybe it's a wonder of the world.  If there's a spot you'd like to see do a quick google to see if there's a webcam. 


This is another situation where the Chromecast or HDMI from your phone or laptop come in handy to get the image up onto a bigger screen.

Listen to the outdoors
Have a google for 'jungle sound live' or 'ocean sound live'.  There are some great long you tubes you can play.

Again - why not put this on your TV with Chromecast or an HDMI cable from your phone or laptop come in handy to get the image up onto a bigger screen.

Spice up your plant life
I'm a big fan of indoor plants.  It's fun to nurture them and watch them grow.  I guess that's why they can make a huge contribution to our well-being at home.

Unfortunately, it's hard to get hold of plants right now.  But if you do have plants, how about showing them some extra special loving care?
A few of my plants were looking a little lacklustre.  So I got some plant food and it's made a huge difference.  My kitchen island has become a sort of plant hospital for the time being.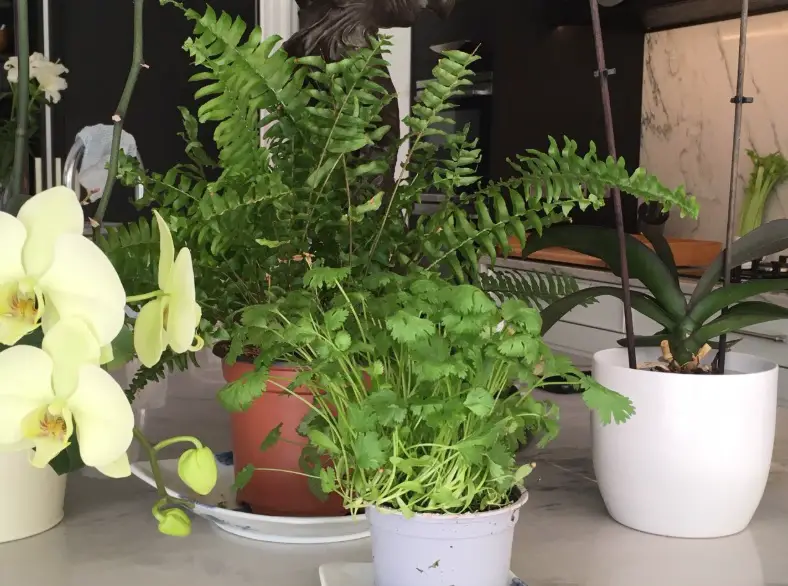 Feed the birds

With less air and noise pollution the birds must be enjoying themselves.  Why not try a bird feeder and see which birds fly in for a visit?

Pick one that you can hang or one that's on a stand.

If you don't have any outdoor space and would like to feed the birds, see my suggestion here.

Create meaningful transition between work and relaxation

If you don't have a dedicated home office or home schooling space this might mean that your main table is serving as school desk and home office with all the books, paper, tablets, phones and laptops that entails.

Working from home and home schooling also means that there's no commute.  Not having to deal with the daily commute to and from work and school saves us time, but it does rob us of the transition between home and work and back again.

To gain a sense of transition from work to relaxation, here's a few things to try when the work of the day is done:

Clear away – use baskets, storage boxes, pillow cases – anything that will hold your work and school paraphernalia so that the stage is set for the next part of your day.
Open a window and put a fan on, just to get the air moving
Go outside, even if all you can do is stand by an open window.  Take a breath, let your eyes focus on something in the distance.
Put some music on, or change the music to change the mood.
Has your outdoor space got potential?

With all the extra time spent at home and extra activities going on at home a bit of extra space can go a long way.   Turning to your outdoor space can be a great way to get more space.

Balcony and Porch
If you have a balcony or porch, make it more into a room by putting a chair and maybe a small table out.

You might get the opportunity to chat with neighbors on their balconies.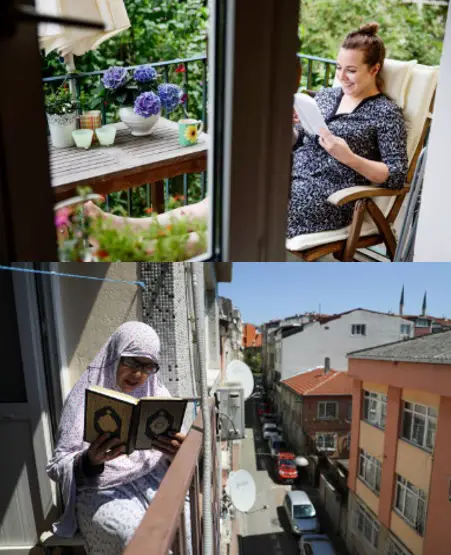 Consider an outdoor rug to make the space feel a bit more cozy.
An outdoor lamp will add atmosphere when it's dark outside.  I've seen balconies with outdoor chandeliers as well.

Make your outdoor chairs as comfortable as you can with cushions.  I love putting a sheepskin on outdoor chairs.

Sheepskin for a chair
Yards and gardens

If you have more of a yard or garden, consider pitching a garden tent and putting in a table and chair suitable for outdoors. 

This would be a great space as an office or home-school space or craft space, although you'd need to be able to bring in anything not weather proof - again baskets and storage boxes come in handy here.

Outdoor tent
I'd recommend you get a table that isn't folding.  That crease down the middle can be very annoying if you want to use it as a desk.

A four pack of chairs can be handy - then you can use the table for a picnic table once all this is over.

And don't forget tennis balls to prevent the legs sinking into your grass!!  No need for anything particularly high quality.

Tennis Balls
Cut the tennis balls like so and onto the bottom of the legs they go!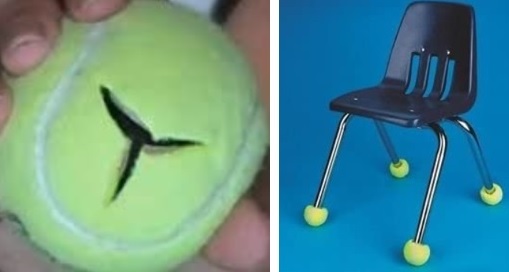 Convert the shed into an office or art studio
Are you lucky enough to have a shed?  What are you using it for?  Maybe it's crammed full of garden tools and the lawnmower, maybe it's a man-cave.
If the space in your shed isn't already fully claimed, consider putting it to use as an office or art studio.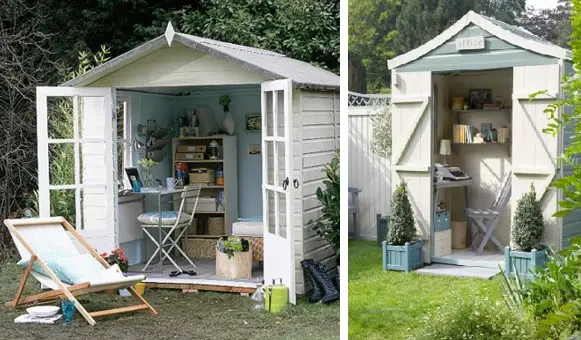 You never know, you may never go back to it being just a shed again.

Taking some time out to do some painting can be a great way to calm the nerves and get away from the house.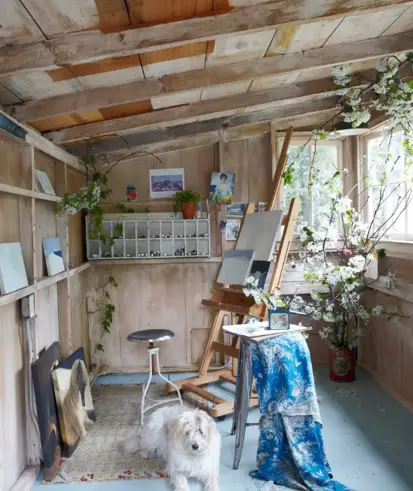 There's nothing to stop you!!!