Building a House in Ireland
Home Demolition
I can't believe the project finally started.  We've signed the contract and moved out.  We had a stroke of luck and managed to rent a house just over the road so it will make it easy for me to keep you up to date with everything that's happening.  I can't believe the project has finally started.  We're building a house in Ireland!!

We'll be building for 9 months – that's the plan anyway.
Let's have a look at what's been going on both on and off site this first month.

On site
The hoarding for the site went up.  If you're building a house in Ireland this is a safety requirement to prevent anyone wondering onto the building site.  There's no graffiti so far.  I wonder how long that will last.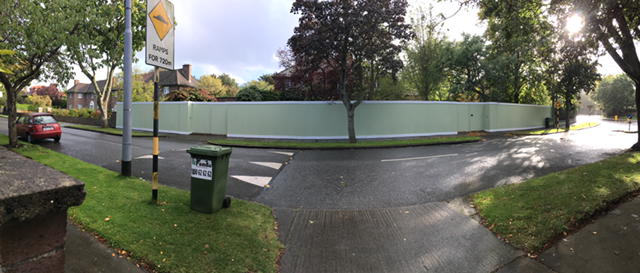 The hoarding goes up.
The first thing that happens on a full remodel job is that everything is brought out of your house. Everything is stripped down to the bare bones.  I'm losing count of the number of skips we're filling.
When I wondered through the house with all the furniture and fittings taken out I thout all the rooms in the house look smaller without the furniture.

You can see the before photos of downstairs here.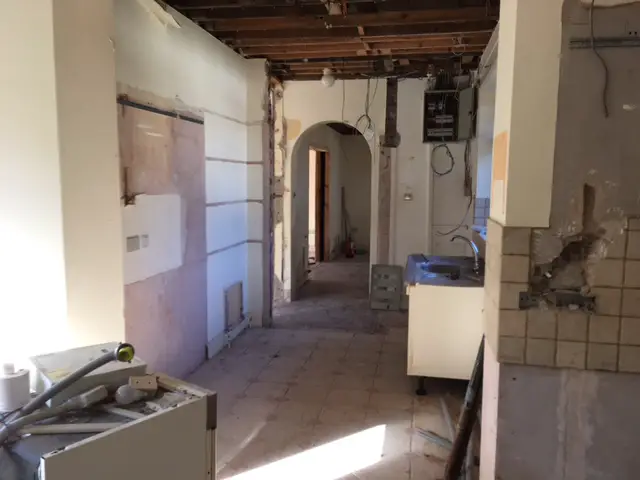 The kitchen is ripped out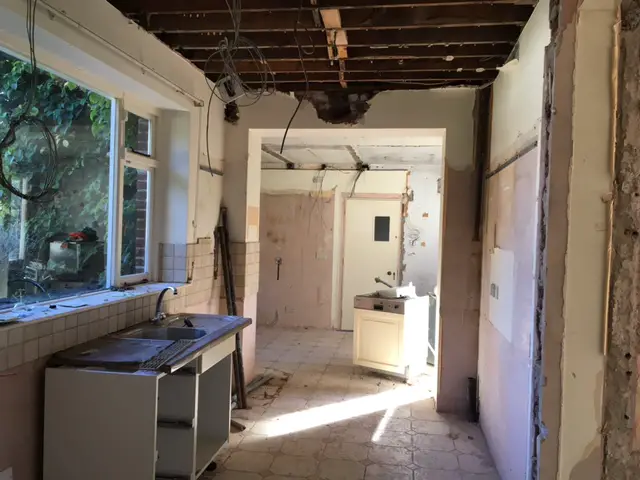 Another view of the naked kitchen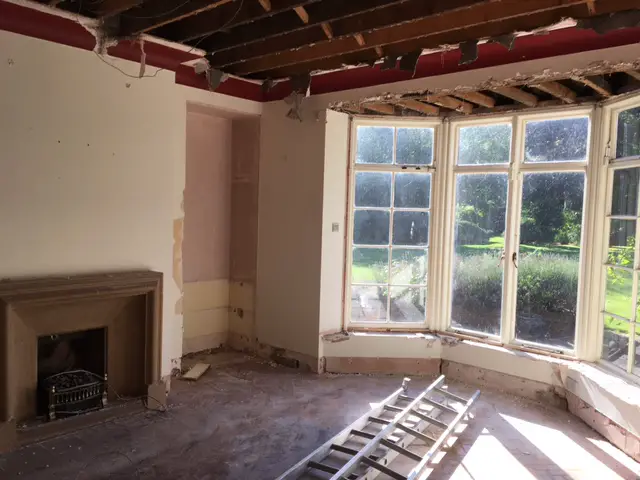 The central room downstairs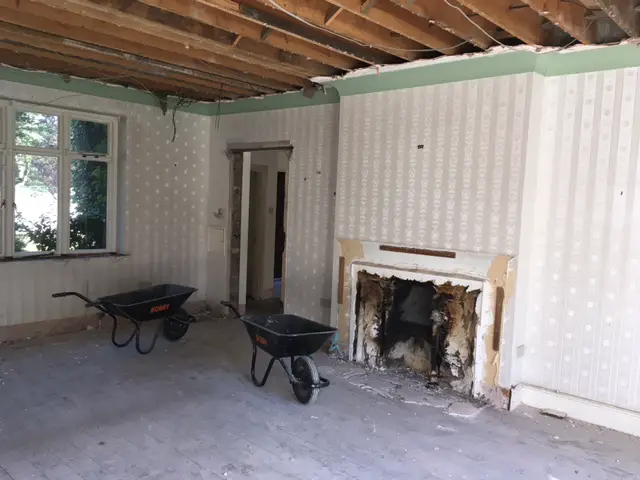 We've had many nights around that fireplace as a family - we'll be back!
The before photos of upstairs are here.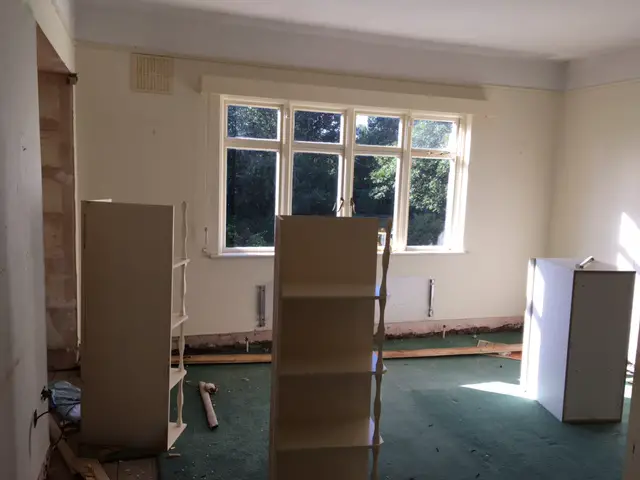 The old wardrobe on it's way out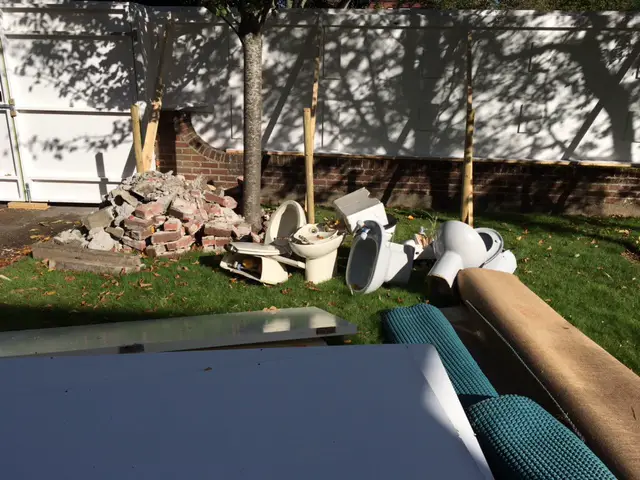 Bathrooms are out!
The builders set up shop with the plans at builder HQ and a table for tea.  I fancy a cuppa myself!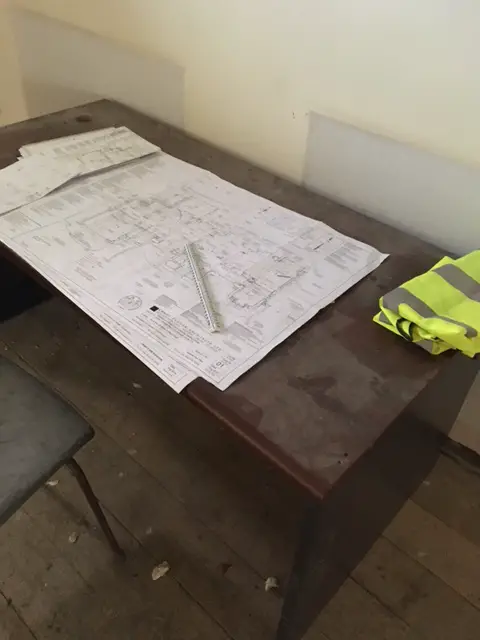 Desk at the site office, formerly bedroom 2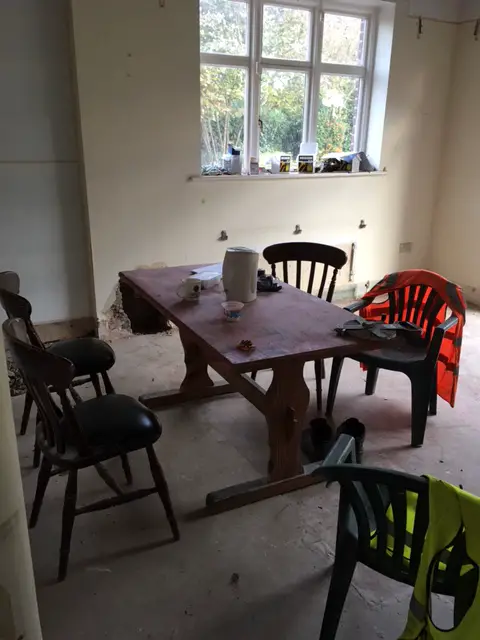 Tea time
A few things are a bit hard to let go of.  The parquet in the hall has to be taken up in order to get the underfloor heating in.  We decide to let it go because it would cost way more to salvage it rather than buy a new floor.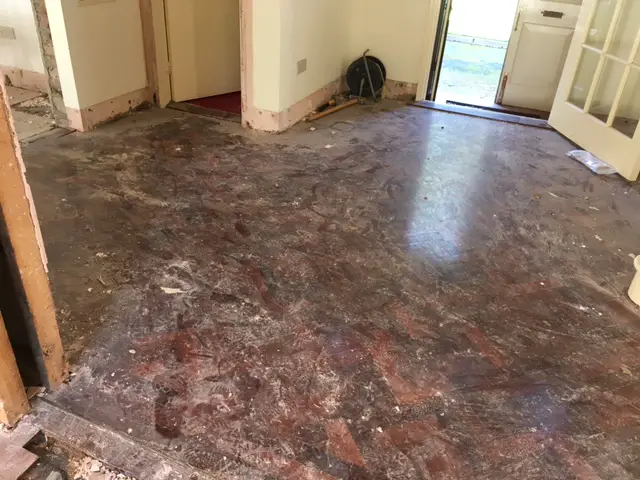 This stripping out process unveils a few secrets…  We found some mystery girders in the ceiling, revealed what must have been an old corridor and found some old parquet under a concrete floor.  It's all part of the story of the house.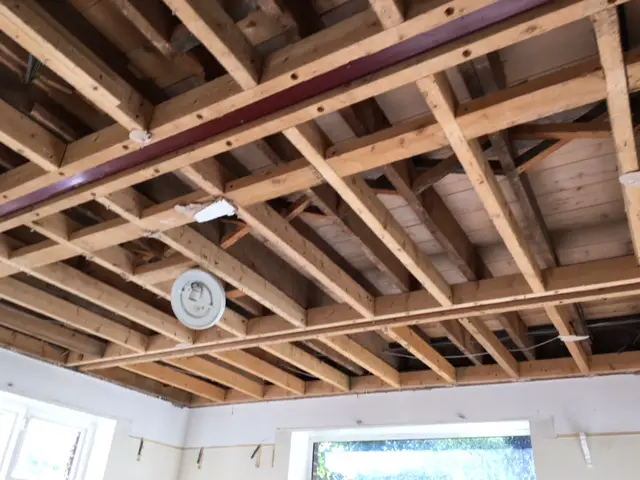 Mystery girders reveal that this room must once have been split into a room and corridor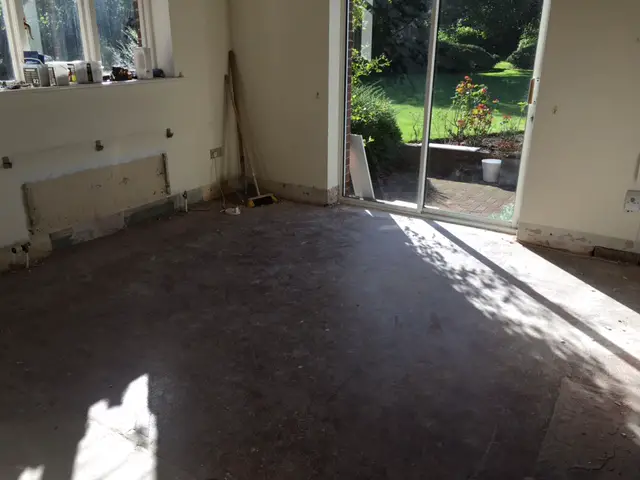 A layer of concrete is cleared to reveal an old parquet floor
I have to tell you that it feels uncomfortable seeing the house you've been living in ripped apart. It's not so much for sentimental reasons but that the value of your house has to be destroyed before the new value can be added to it.

Then the demolition starts.  This month they're concentrating on the east side of the house.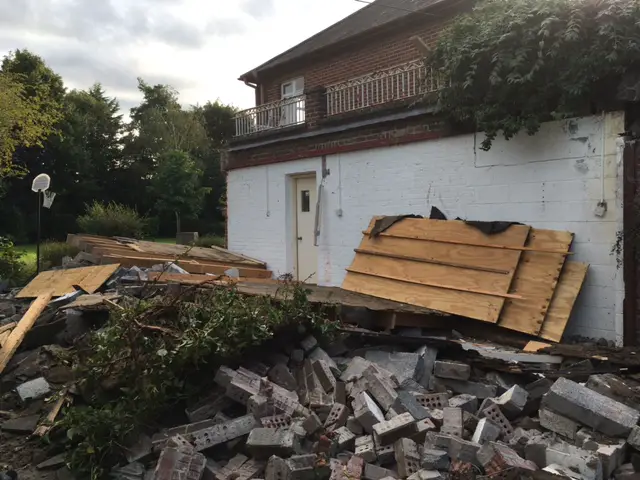 The East side of the house is reduced to rubble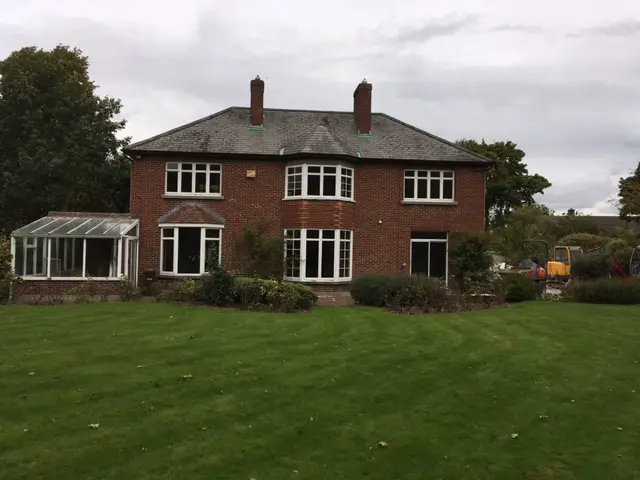 The East side gone - view from the back garden
Off site
As well as what's going on at the site, there's also quite a bit of activity going on off-site in our story of building a house in Ireland.

The design for the windows was never finalized during detailed design.  I've spent quite a bit of time (that's an understatement) thinking about different options.
We've visited a couple of window showrooms and learnt about windows.  I've poured out everything I learned into the window design pages.  The quotes we get back differ quite a bit in price for more or less the same product.  Again price isn't the only important thing.  Getting our windows delivered on time is very important to us.  Still, the difference in price makes me think that there must be room for negotiation.

I also started thinking about the kitchen.  Now it's very early days for the kitchen but you may have already read that I want to put an art deco vibe into the house and I see the kitchen as a major element in the house hence my thinking about it now.


Building a House in Ireland - top tip
My top tip for this stage is to either have a copy of your plans that you carry about all the time, or make your plans available off-line on your phone or tablet.

More Remodelogs for you...

1 - My Dream House
2 - My dream house - First Floor

3 - Dream House Floor Plan Inspiration

5 - Architectural Design Brief

8 - More architectural floor plans (coming soon)

9 - What is a Quantity Surveyor?
11 - Building Contractor Services