G Shaped Kitchen

Let's jump straight in and take a look at layout options for your G shaped kitchen.

The idea of this page, and others in the kitchen layout ideas section of this site is to concentrate on kitchen layout options, and save you spending hours browsing through interiors photos with different looks but similar layouts.

For all the layouts below there would be some flexibility for location of appliances.  See How to Design a Kitchen for info on placing your appliances.

This page forms part of the kitchen design layout series on house plans helper.

G Shaped Kitchen Layouts

Here's some G shaped kitchen layouts to look at.  The difference between these first two is the entry into the kitchen is straight or kind of diagonal, depending on how far the units extend down to the peninsula.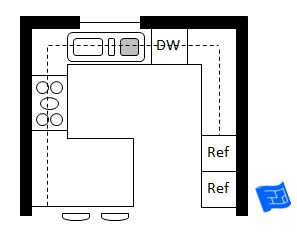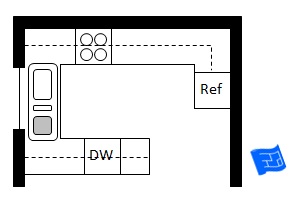 You need at least 10 x 10ft (3 x 3m) to consider a G shaped kitchen and the design is easily expanded into a larger room, provided that the kitchen triangle is kept to a manageable size.
This one has a corner fridge. With a kitchen this large the 45 degree angle makes things feel a little more cozy but don't put things on an angle in a smaller kitchen layout. The run of units to the right of the refrigerator would make a great self service area or desk.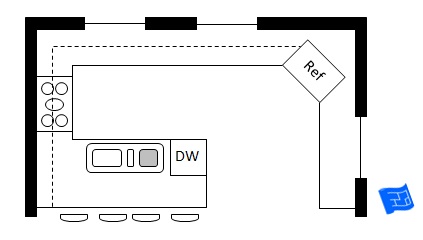 If you're tight on space you could consider making one run of units half depth at counter height, ¾ height or full height.  This arrangement makes use of two under counter refrigerators to preserve counter space in the kitchen.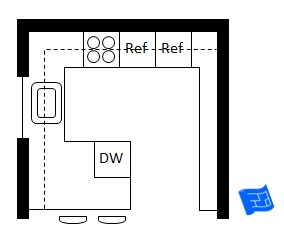 Read more about kitchen dimensions and kitchen cabinet dimensions to figure out how this kitchen layout might fit into your space.

The G shaped kitchen is a great option if you've got a huge open plan loft space.  One side of the G can go along a wall and the rest of the kitchen extends out into the room.  If there's enough space you can have 1½ or double width sections.   This creates lots of base counter storage which replaces the storage lost due to the absence of walls.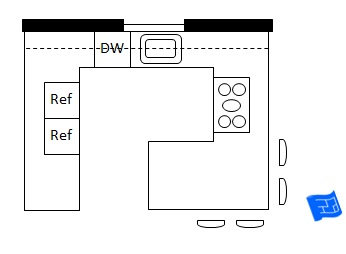 Everything's not always square so here's a more angled g-shaped kitchen.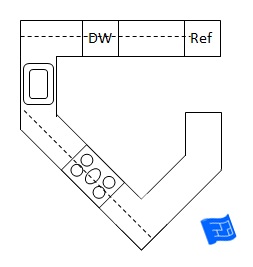 U shaped with an island or G shaped kitchen?

Kitchens with islands are perceived by many as luxury, so there can be a tendency to take a mid size U shaped kitchen and add a small island to it.  In my opinion this is a mistake.  A G shape is nicer than a U with an island that's too small to be useful and doesn't look good from a proportion perspective either.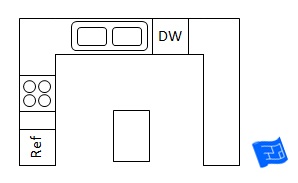 I think a G shape n is better than a U shaped kitchen with a small island.

Functionality

The main goals of good kitchen design layout are to...
Have sufficient counter space.
Have sufficient storage.  Have a look at some different kitchen storage solutions and kitchen storage ideas.
Have an effective layout, including a kitchen triangle (I call it a kitchen polygon!)
Have the right amount of 'preparation privacy' for you.  That's the amount of physical and visual privacy from the dining area and the rest of the home.

So now that we've had a look at all the layouts let's discuss how these kitchens perform in relation to the kitchen design layout goals.

Counter Space

If a U shaped kitchen has great counter space, then a g shape offers counter space that's super duper.

Storage
Base cabinet storage space
There's loads of base cabinets and quite a few corners so storage is plentiful, provided that the kitchen storage solutions work well in the corners.

Wall cabinet storage space
Even if you only have one wall of wall cabinets, if you can fit more storage in the peninsula, there's still plenty of storage.

Layout Effectiveness

A G shaped kitchen shares the same advantages of layout as U shaped kitchens.  The kitchen triangle is made up from appliances on three sides, all reasonably close together.  If you have a big kitchen it's important to make sure that the work triangle is kept compact, concentrated in one area of the kitchen.

Preparation Privacy

This kitchen design encompasses all four walls so there's the flexibility to make the open areas of this kitchen as open or private as you want.  A raised area can be added to any of the open arms of the kitchen to make the kitchen more private.

More kitchen design for you...

More room design for you...