U Shaped Kitchens

Let's jump straight in and take a look at design options for u shaped kitchens.

The idea of this page, and others in the kitchen layout ideas section of this site is to concentrate on kitchen layout options, and save you spending hours browsing through interiors photos with different looks but similar layouts.

For all the layouts below there would be some flexibility for location of appliances.  See How to Design a Kitchen for info on placing your appliances.

This page forms part of the kitchen design layout series on house plans helper.
Thin U shaped kitchens

Here's a basic kitchen to start - surrounded by walls / window.  This kitchen layout would have 42 - 48 inches (107 - 122cm) between the facing aisles.  Read more about aisle widths.  The sink is often placed beneath the window.  If the window was in another position the position of the appliances could easily be swapped.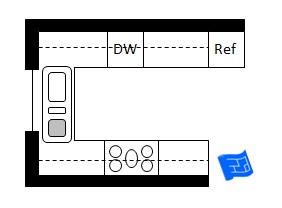 One of the main variations on this kitchen is if one of the tails of the U shape becomes a peninsula.  The peninsula might be single, 1½ width or double width.
In the layout below the peninsula has cabinets hanging from the ceiling to provide more storage.

Here the peninsula has been made wider to provide seating and the overhead cabinets have been dropped.

Mid Size U Shaped kitchens

Here's a mid size kitchen.  The distance between facing aisles here would be up to around 6ft (183cm) which means there's plenty of room for two cooks.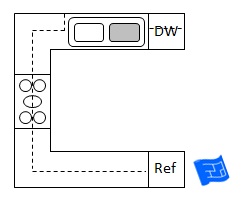 Your kitchen might fit a U shaped kitchen with short tails.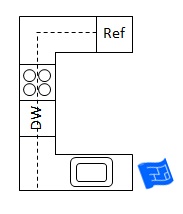 Or you could build this kitchen into an alcove.  In this design you can have an open or self-contained kitchen depending on whether or not the pocket door(s) are open or closed.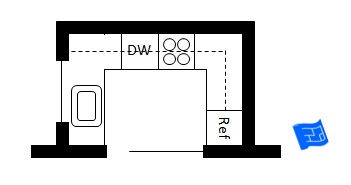 Kitchen design layout sometimes requires trading off counter space for storage.  If you're short on storage space in your kitchen, one of the tails of the U can be a wall of three quarter or full height kitchen cabinets, either full depth or half depth.

I guess you could make the base of the U full height cabinets as well!

If you've got space for a mid to large U shape, it's also worth considering a G shaped kitchen.

Large U shaped kitchen

As the U shape grows larger, there's room for a kitchen island floor plan or a farmhouse kitchen.  It becomes necessary to keep the appliances in an L shaped kitchen configuration so that the appliances don't get too far apart.
In the farmhouse kitchen layout below, the distance between the facing aisles is at least 8ft (2.44m) plus the width of the table.  Read more about table clearance.

In this type of kitchen layout there's already sufficient counter space around the appliances so the other side of the U can be used for three quarter or full height kitchen cabinets.

More Unusual U Shaped Kitchens

Not all corners are necessarily 90 degrees...

Most of the time when I see a 45 degree (or any other angle for that matter) kitchen I always try to see if a standard U shape would fit better.  The 45 degree design fulfills the purpose of filling up extra space with kitchen space but it isn't as efficient to use.  For example I'd change the arrangement above into a mid size standard shape with a 1½ width or double width kitchen peninsula.

Imagine a lovely bay window or open plan loft with this arrangement.  Wall cabinets would be in short supply and drawers are hard to implement in the base cabinetry because of the curve - but sacrifices have to be made for beautiful shapes.

Functionality

The main goals of good kitchen design layout are to...
Have sufficient counter space.
Have sufficient storage.  Have a look at some different kitchen storage solutions and kitchen storage ideas.
Have an effective layout, including a kitchen triangle (I call it a kitchen polygon!)
Have the right amount of 'preparation privacy' for you.  That's the amount of physical and visual privacy from the dining area and the rest of the home.

So now that we've had a look at all the layouts let's discuss how these kitchens perform in relation to the kitchen design layout goals.


I have to say that thin to mid u shaped kitchen designs are my favorite, and in my opinion the best layout where, for the most part, there's one cook preparing food.  Everything is within easy reach, there's loads of counter space and storage and I feel kind of protected as I'm cooking - it's my area and there's no need for anyone else to be there.  Although help with clearing up is always welcome!

Counter Space

The standard U shaped kitchen has great counter space because there are two corners of counter space.

Storage
Lower cupboard space
Again the corners make storage so there's tons of lower cupboard space.  It is important though to get kitchen storage solutions that make access to the corner cupboards easy.

Upper cupboard space
Even if you choose to have one edge of the U as a peninsula into the room you have the option of putting in upper cupboards that hang down.

Kitchen Layout Effectiveness

The beauty of a U shaped kitchen is that the stove, sink and refrigerator will tend to be on different branches of the U making it a very efficient space.  If the design is a fairly thin U shape – say 42 - 48 inches (or 1.07 - 1.22m) of floor space between the units then you've got one of the most effective work spaces there is for one person.  I think it's important that the refrigerator and any self service activities are placed at the tip of one of the tails of the U otherwise they will interfere with the cooking activity.  This shaped kitchen becomes inefficient (too far to walk) when the units become too far apart, say at 8ft or 2.44cm.

Preparation Privacy

If the end of the U shape is open to the eating area or other area of the home the U shaped kitchen isn't great for privacy.

If one of the sides forms a peninsula between the kitchen and the eating area then the u shaped kitchen can be made to quite private, particularly if a the peninsula includes a section at bar height to shield the counter top from view.
For the cook, the U-shape tends to by physically private even if the arrangement might not be visually private.  A full U-shape doesn't go anywhere and there's no island for kids to run round so the cook is unlikely to have to contend with too many unwanted visitors.

More kitchen design for you...

More room design for you...