Your Role in Your New Build Or Remodeling Project
Your role in your new build or remodeling project

As homeowners, you are in the driving seat of your project and your role in your new build or remodeling project is key. 
You will have a relationship with your project through all the steps involved in manifesting your new home from vision to reality.
You will be contributing your time, skills and capabilities and the success of your project and how you experience your project will have a great deal to do with what roles and responsibilities you take on and the mindset with which you take them on.
On top of that, if your are in your project with your significant other there are two of you to consider.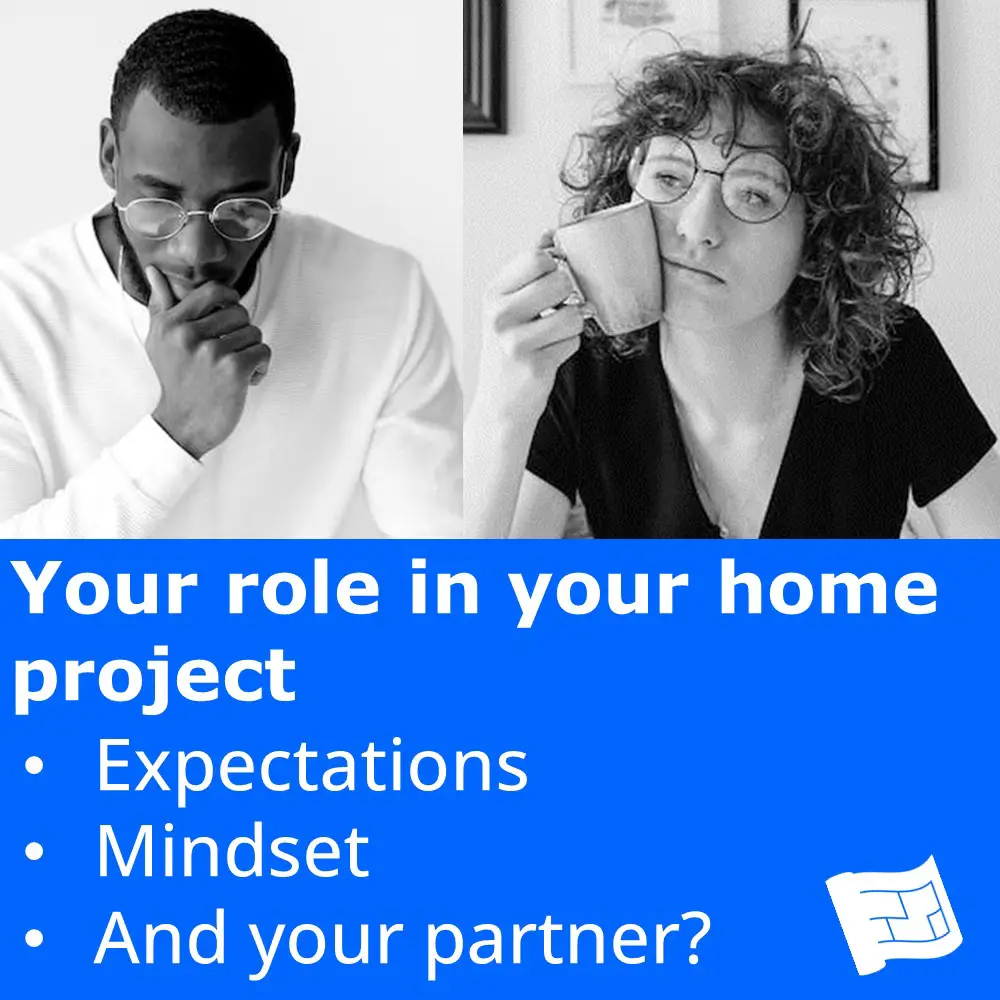 A home project is a huge opportunity for your own development and growth.  You'll learn new things, be pushed outside your comfort zone, likely worked very hard and made some hard decisions.  Creating a home is one of those opportunities and experiences in life that's personal, intense and therefore all the more gratifying.

Let's have a look at why it's important to think ahead about the role you want to take on for your home project...

Roles and Expectations
Here, at the beginning of your project it can be very helpful to think about how you intend to take part in your project.
What are your expectations?
What roles and responsibilities are you prepared to take on?
How much time do you have available for your project?
What are you looking forward to and what are you apprehensive about?
How about your partner?
The extent of your involvement is up to you.
Knowing how you want to be involved in your project will help you determine which professionals you want to hire and what you'll need them to help you with.

Your Mindset
The way you participate, the way you interact, operate and behave and what you tell yourself has a huge impact on the success of your project in terms of your experience during the project, your team's experience on the project and the final result – the home that you'll enjoy in the future.
You play such a key role in your project and naturally you want to give it your best.
How do you think your mindset will help you with your project?  Do you think there are any aspects of your mindset that might hold you back or get in the way?
Working with your partner

If you're working together with your partner on a project for the first time, you'll be going into new territory in your relationship.
The question is, will the experience of your home project deepen and strengthen your relationship or drive a rift between you?
It's worth thinking about the new experiences you'll be having together ahead of time and considering how you'll navigate the journey together.
How will your role in your new build or remodeling  project tie in with the role your partner will take on?

6 'good-to-knows' about your role in your new build or remodeling project

1 - Project Vision and Direction

You play a vital role in setting the vision and direction for the project.  It's important for you to articulate your goals, preferences, and desired outcomes to the professionals you choose to work with on your home project.  By clearly communicating your vision, energy and enthusiasm for your project, you can help guide the project and ensure that it aligns with your vision.
We talk about this in a little more detail in setting your goals for your home project.

2 - Project Oversight

As the homeowner, you have a role in project oversight.  Whilst your team of professionals may well handle the day-to-day execution, you'll need to monitor progress, ensure adherence to timelines, monitor the overall budget and address any concerns or issues that arise.

Top tip

If you haven't managed a project before, you may not realise the qualities and skills required for the task of overseeing your project.  Hiring a project manager is one of the options that we discuss when selecting your team for your home project.
3 - Decision-Making and Approvals

As the homeowner, you have the final say in decision-making and approvals.  It's your responsibility to review plans, designs, and material choices presented by your team and provide feedback or give the go-ahead.
It's important to have a clear understanding about where you're responsible for decision making. 


For example...
For example, are you happy to let your design professional approve the choice of brick or siding and other materials to be used on the exterior of your home, or do you want final approval?
It's also important to understand when and how quickly you need to make decisions.
If you're working with a partner you need to decide if one of you can decide, or if both of you need to give your approval.

4 - Communication and Collaboration

Effective communication and collaboration are essential for a successful project.  You'll decide how the communication between the various professionals involved will be managed, ensuring that information flows smoothly.
You can decide to manage the communication and information flow yourself, or you can hand this task off to one of your team. 


For example...
During design you can arrange with your architect to hand the responsibility of coordinating the information flow between your design team, your structural engineer and your planning consultant if you don't have the time, inclination or capabilities required.
5 - Managing Expectations
This is a mindset thing...

It's your responsibility to manage your expectations and be realistic about your home project.  While the professionals that you work with bring expertise to the table they can't work miracles.  You need to be realistic about the scope, timeline, and potential challenges on your project.

By understanding your role in managing your own expectations, you can maintain a constructive and proactive mindset throughout your project.
6 - Enjoy your new home (and the journey)

Ultimately, your role in your new build or remodeling project is to enjoy your project journey as much as possible and, in particular, the outcome of your new build or remodeling project when you get to move in and live in your new home or space.
By actively participating, staying engaged, and communicating and collaborating effectively, you'll contribute to the creation of a space that reflects your vision and meets your needs (and those that you live with).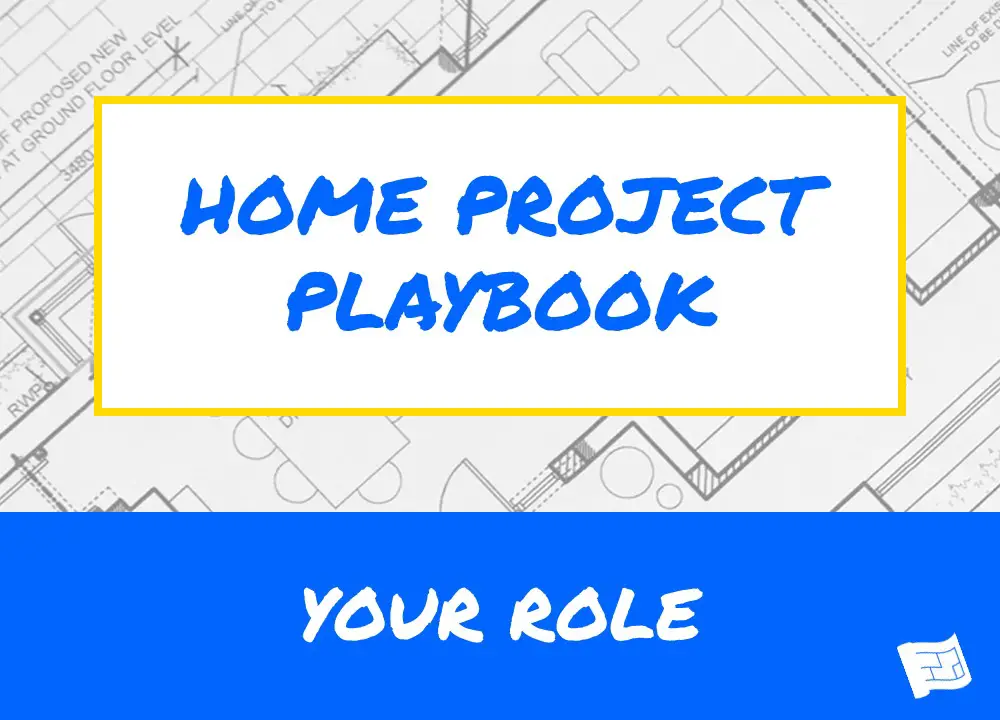 The Playbook is a work in progress.  Anything without a link is coming soon.
Phase 1 - Project Preparation

Phase 2 - Design Preparation

Project Delivery Strategy

Phase 3 - Design

Schematic Design (Floor Plans & Elevations)

Design Development (Detailed Design)

Phase 4 -  Construction
Your Contractor / Builder